Recent Posts
08

Jan
Recommended Barcelona tapas restaurants
Posted by Ricard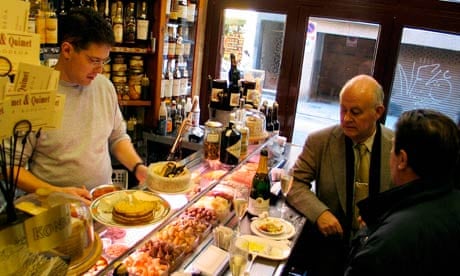 Barcelona's reputation for tapas precedes it and with good reason. It's a city full of delicious, innovative and mouth watering dishes, all of which can usually be served in the form of tapas (small plates of food) and shared amongst a group of friends or eaten solo. From cured hams, Manchego cheeses, spicy mushrooms, fresh salads, 'pan con tomate' (bread with tomato) and croquetes, whether you're looking for upscale and trendy or the tapas equivalent to 'greasy spoon', Barcelona's tapas restaurants are diverse and plentiful; you'll l never be left wanting or without options.
The Old City (Ciutat Vella), in particular, provides for plenty of cool and rustic tapas locales, most within walking distance of each other, thus making it easy to create a fun night out, tapas and bar hopping. Between the Gothic Quarter, the Born and the Raval (all within close proximity to one another) there are several well known as well as off the beaten path places to spend an evening basking in authentic Catalan and Spanish food, which can be washed down by cava, sangria and vino.
Barcelona's tapas scene is a great way to experience all that the city has to offer both on a culinary as well as on a cultural level.
A Barcelona Classic, El Xampanyet is a must try, at least for a few minutes as it's often hard to stand the crowds; which are plenty and always. This small, Barcelona tapas joint serves renowned champagne, mixed drinks and fresh and eclectic tapas, in a welcoming setting. This is what tapas used to be before the gastro trend took over and the internationally infused restaurants sprung up. El Xampanyet is as authentic as a Barcelona tapas bar can get and the best part is that you can go for breakfast, lunch or dinner. It's a close walk to the beach, which is a nice way to burn off the greasy tapas. (93-319-7003)
A Barcelona staple this tapas joint is well known to locals, expats, tourists and all those looking to experience a genuine Barcelona tapas meal. Situated in the Eixample neighborhood, Cerveceria Catalana offers high quality food at very reasonable prices. It's a great place for lunch with friends or dinner as they're open fairly late. This is also a perfect restaurant if you're looking to enjoy a meal with a lot of people. The restaurants outdoor patio is spacious, lined with long tables and a nice spot to lounge and people watch when the weather is nice. Although you'll hear plenty of English around you, it's still a local gem. (932 16 03 68)373
A trendy, upscale bar in the heart of the Exiample neighborhood. Bar Mut specializes in fresh, mouth watering seafood which it serves in an authentic setting atop barrels, which act as tables. They also have a variety of other delicious dishes including cheeses, meats and salads. There are few places to sit in Bar Mut, making for a very intimate setting. If you don't feel like spending an arm and a leg, go for their lunch menu which is on the less pricey side but allows you to experience high quality dishes in the middle of the day. Sit outside, if it's a nice day out - excellent for people watching. (932 17 43 38)
One of the most well known Tapas joints in the city, Tapas 24 features high quality food with a greasy flare. Their menu is diverse with a variety of Spanish, Catalan and Mediterranean options. The restaurant itself is tiny with a few outdoor tables on the patio, ideal during summer and heated in the winter. You can't make reservations and the place is always packed so it's best to go early especially on weekends. Tapas 24 has the advantage of being situated in the Eixample neighborhood, surrounded by a wide selection of great bars and clubs, all of which stay open until the sun comes up. (934 880 977)
Innovative tapas in the heart of the Eixample, Paco Meralgo's minimalist decor doesn't take away from its warm atmosphere and absolutely delicious food. It's fair to say that this restaurant has some of the most unique tapas in the city, offering dishes that are hard to find in other places. Their large windows and bar stools provide for an airy feel and excellent people watching, especially during the day time. One of the city's first gastro tapas restaurants, Paco Meralgo has a mix of elegant dishes as well as homey Catalan favourites including pan con tomate and a mouth watering tortilla (Spanish omelet). (934 309 027)
An excellent gastro tapas bar in the Old City right near Arc De Triomf at the edge of the Born neighborhood. Elsa y Fred sports an early 1920's decor and provides an elegant understated vibe. It's a great place for a morning coffee and paper, tapas lunch and delicious dinner. On Tuesday nights they have Jazz and on weekends they're always packed for brunch. They also have a wonderful new breakfast menu with 'American Style' options such as omletes and pancakes depending on the day. This is a trendy, tapas restaurant/bistro in the Born and a great place for good conversation and a fun evening out. (93 501 66 11)